In the corporate world, a Request for Proposal (RFP) serves as a vital tool to solicit proposals from various service providers.
When searching for the right negotiation training provider, creating a comprehensive RFP helps streamline the process by outlining your organization's specific requirements and providing a standardized format for potential vendors to respond.
Here at RED BEAR, we know that businesses are looking for value. On average, RED BEAR clients see a return of $54 for every dollar invested in our negotiation training courses.
On average, RED BEAR clients see a return of $54 for every dollar invested in our negotiation training courses.
What makes RED BEAR training so different? What do you get when you work with RED BEAR?
In this blog, we'll tell you some of the questions you should ask when you put together a negotiation training RFP and also take a look at some of the ways RED BEAR's negotiation training stands out.
How to Craft an Effective Negotiation RFP
Let's explore some key questions you should include in your negotiation training RFP to ensure you're taking the right steps toward finding the right training company to partner with for success.
What Makes the Negotiation Training Unique?
The uniqueness of a negotiation training company speaks to the innovation and differentiation in their approach, which can significantly impact the outcomes of the training.
At RED BEAR, we provide training in a tried and true negotiation methodology that leverages our team's deep and focused expertise in negotiations. Whether it's negotiations with suppliers, partners, customers, or internally with stakeholders, we provide solutions to help your organization enter into any negotiation environment with confidence.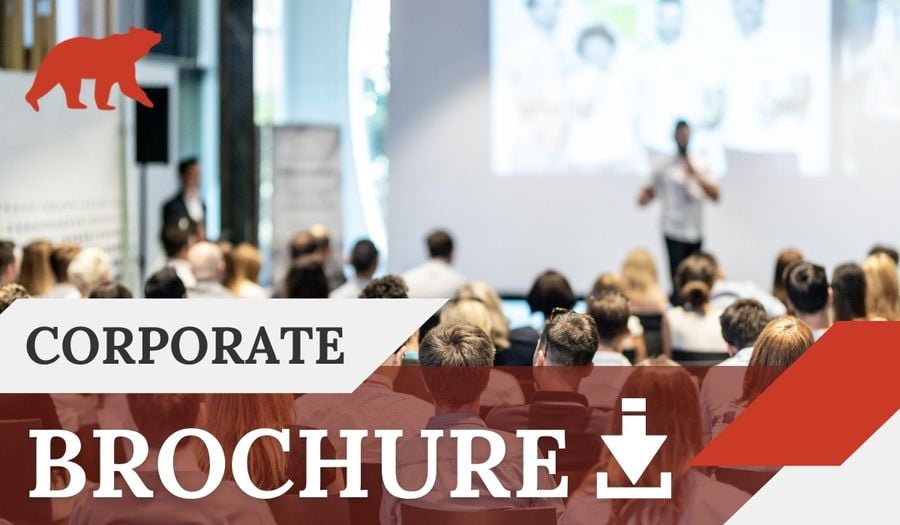 We offer many different types of training to ensure your team is ready to tackle negotiation for every business function:
With RED BEAR Training, your team gets unforgettable, customized learning experiences that stick. We'll also make sure your team has the support they need to continue their learning and reinforce the skills learned throughout the workshops.
Is the Negotiation Training Customized?
A customized training program means that the training will be geared toward your organization's specific needs and situations, thus enhancing the learning experience and ensuring more applicable and effective outcomes.
At RED BEAR, all engagements are tailored to the unique needs of each client at each phase of the training process:
The process begins with an executive champion call and subsequent subject matter expert interviews to understand your current negotiation landscape, strategy, challenges, and goals.
The insights from these discussions are then used to create two customized deliverables: an Instructor Briefing Packet for tailored workshop preparation and tailored negotiation scenarios for real-world practice for your organization.
Customized coaching, continual feedback measurement, and the unique 100 Minutes to Improved Results program further enhance the training experience, ensuring relevance and impactful performance improvement.
RED BEAR harnesses its strategic alignment tools to identify recurring obstacles, missteps, and circumstances encountered in sales and procurement negotiations.
We follow up the strategic alignment with our trademark experiential learning approach, coaching and reinforcement, as well as measurable results, so you have a clear picture of the value our training brings to the negotiation table.
These insights enable RED BEAR to adjust and customize our client engagements to tackle specific needs and evolving trends.
Can the Negotiation Training Company Deliver Globally?
72% of business leaders report increased negotiation volume with people from other cultures — highlighting the importance of a flexible approach to international training.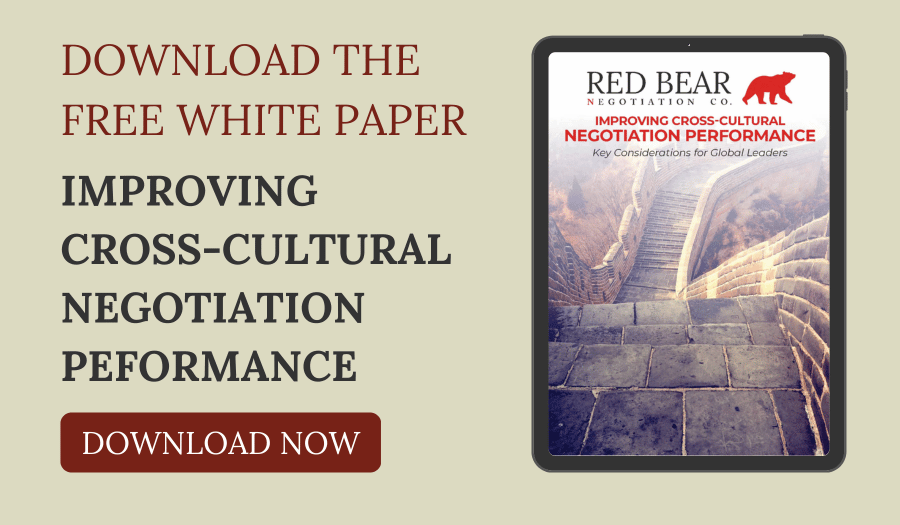 The global scope and scale of a negotiation training company indicates its capacity to provide training across diverse cultural contexts. This is a key consideration for multinational organizations or those planning to expand their operations internationally.
One of our big differentiators in the training market is our ability to support global clients through local execution.
We have instructors from all around the world and can offer training in upward of 15 languages.
Does the Negotiation Training Company Deliver Measurable Results?
The ability to deliver measurable results ensures that the training company can provide evidence of effectiveness and return on investment (ROI), validating the investment in their services.
Offering our clients a clear way to measure results is all part of what makes our approach to training so unique.
We demonstrate results to clients so they know exactly what they get for their investment. This happens in several ways to ensure credibility and transparency:
A skill improvement report after each session. These self-reported scores allow the measurement of personal growth across critical negotiation areas.
We provide every client with an ROI measurement study that tracks immediate results, pre- and post-program behavior change, real-world applications, and bottom-line results.
RED BEAR's 10x ROI Guarantee. If at the end of any session, an individual doesn't believe they will drive 10x returns, we don't send an invoice.
Remember: On average, RED BEAR clients see a return of $54 for every dollar invested in our negotiation training courses.
Does the Training Organization Ensure Coaches Remain Up-to-Date, Trained, and Knowledgeable?
A company's commitment to continuous learning and staying abreast of the latest trends and practices is a reflection of its credibility and ability to provide high-quality training.
Our instructors and coaches constantly deliver results across all industries and the world. This daily practice is one of the ways our team stays current with what's happening in the world of business negotiation.
Our blueprinting process also helps our coaches stay up-to-date with the latest trends, challenges, and market conditions.
We ensure our coaches maintain certification through constant measurement alongside critical feedback, and we're constantly expanding our training team with veteran procurement, sales, and marketing leaders.
Lastly, at RED BEAR, we foster an environment of information sharing, ensuring our team connects and shares best practices regularly.
Can the Negotiation Company Deliver Workshops and Training Virtually and In-Person?
Given the increasing prevalence of remote and hybrid work models, it's critical that the training company can effectively deliver both virtual and in-person training.
Given the increasing prevalence of remote and hybrid work models, it's critical that the training company can effectively deliver both virtual and in-person training.
We can deliver workshops in any language, to any audience, in any business unit.
Whether it's in person or virtual, our reach extends globally.
As of 2023, around 12.7% of full-time employees work from home, with 28.2% working in a hybrid environment. This shows how important it is to have varied approaches to training delivery that can cater to distributed teams.
Does the Training Organization Bring a Comprehensive Model Supported by Documentation?
A comprehensive model supported by documents indicates a well-structured, organized, and professional approach to training.
Our entire negotiation philosophy centers around our unique Negotiation Model that covers the fundamentals of negotiation.
This includes the principles and behaviors of successful negotiations as well as an understanding of the three dimensions of negotiations.
Our training is supported by our Negotiation Planner — a vital tool that helps participants plan effectively.
Does the Negotiation Training Company Have Any Recent Industry Awards?
Industry awards are a testament to the training company's quality, credibility, and recognition in the field.
When it comes to RED BEAR's awards and accolades, here are a few we're particularly proud of from this year alone:
Does the Negotiation Organization Regularly Publish Thought Leadership Articles on Trusted Industry Publications?
Publishing thought leadership articles indicates that the company is knowledgeable, influential, and recognized in the industry.
To help you understand RED BEAR's position in the market, let's take a look at some of the articles we've published in leading industry publications this year alone:
How Does the Training Company Ensure the Training Has a Lasting Impact?
Ensuring the lasting impact of training involves strategies for reinforcement, continuous learning, and measuring effectiveness post-training.
Our training doesn't end when the workshop finishes. We ensure our methodology sticks in a few key ways:
Coaching and Reinforcement: RED BEAR Negotiation's Coaching & Reinforcement Workshop (CRW) is an engaging follow-up program designed specifically for those who manage teams in leadership roles.
100 Minutes to Improved Results: RED BEAR rolls out our 100 Minutes Reinforcement process to all participants after the initial training workshop. This process spans over ten weeks, during which participants receive a weekly email containing a focused activity.
What Differentiates RED BEAR as a Training Company?
Differentiating factors signal a company's unique value proposition, making it stand out from competitors. These could include factors like scalability, research-backed principles, demonstrated ROI, global capabilities, tailored solutions, in-house expertise, and more.
Still looking for reasons to partner with RED BEAR? Here are 20 unique features that make our training stand out against the competition:
Scalability: our solutions transcend divisions, geographies, business models, languages, and cultures.
Powerful negotiation tools: our powerful model and process expedite tangible business results and ensure a swift "time-to-value."
Efficiency booster: our standard process and terminology promote superior negotiation planning efficiency.
Persistent learning: our impactful, sequential case-based discovery learning methodology fosters long-lasting knowledge.
Holistic approach: we address both the technical process and the human behavioral aspects of negotiation.
Expandable offerings: we have additional modules to cater to unique and advanced requirements.
Employee empowerment: our training boosts confidence and credibility, fostering enthusiasm and connection among diverse global teams.
Research-backed: our negotiation principles and model have been developed in collaboration with the

Stanford Graduate School of Business

.
Distinct negotiation philosophy: we believe negotiations have three dimensions: competitive, collaborative, and creative.
Discovery-oriented learning: our methodology encourages learning by doing through tailored negotiation simulations.
Outcome enhancement: our focus is on a sustainable process that drives professional growth rather than mere educational events.
Global expertise: our instructors are seasoned professionals with real-world experience, maintaining high engagement levels during delivery.
Demonstrated ROI: our ROI tool measures tangible outcomes and improved business results.
10x Performance Guarantee: we pledge a tenfold return on your investment or your business doesn't receive an invoice.
Global capabilities: our training is delivered by instructors in 15 different languages.
Prestigious references: some of the world's most respected companies have chosen RED BEAR as their preferred negotiation partner.
Tailored solutions: every RED BEAR solution is customized to address the specific needs and priorities of each client.
In-house procurement expertise: we offer consulting services and assistance with process deployment and measurement.
Reinforcement and coaching: we provide solutions to enhance coaching skills and encourage continuous negotiation reinforcement.
Procurement and Sales savvy: our experience in both procurement and sales training offers unique insights.
Maximize Negotiation Outcomes with RED BEAR Negotiation Training
A well-crafted RFP can be a powerful tool to help you find the right negotiation training provider. By posing these questions, you can ensure that you get a comprehensive view of the potential vendors, allowing you to make the most informed decision for your organization's unique needs.
When it comes to the value of RED BEAR, hopefully, you now have a firm understanding of how we approach negotiation training and our negotiation methodology.
Our mission isn't to teach tactics or one-time-use strategies but to transform your team into world-class negotiators with training based on the principles and behaviors that drive successful negotiations.
Looking for more information on RED BEAR and our training workshops? Reach out to the team today to get started.
Fill out our contact form and we will be back to you in no later than one business day.