IMPROVING CROSS-CULTURAL NEGOTIATION PERFORMANCE
GLOBAL COMMERCE REQUIRES CROSS-CULTURAL NEGOTIATION SKILLS
This white paper explores the unique challenges of cross-cultural negotiation and describes a number of important considerations leaders should keep in mind as you evaluate your options for developing the acumen of key employees in this important area.
SUMMARY
In a recent RED BEAR Negotiation survey of sales and purchasing professionals from Fortune 100 organizations, 72.7% of respondents reported that the amount of negotiating with people from different countries has increased during the past three years.
Whether the negotiation occurs between your headquarters staff and overseas suppliers, sales professionals and foreign buyers, or employees of the same company housed in different global locations, the challenges of profitable negotiation are significant. Increased economic globalization has made the costs of poor performance unacceptable.
Without the skills to effectively communicate and negotiate with peers and partners across the globe, gaining agreement can be fraught with misunderstanding.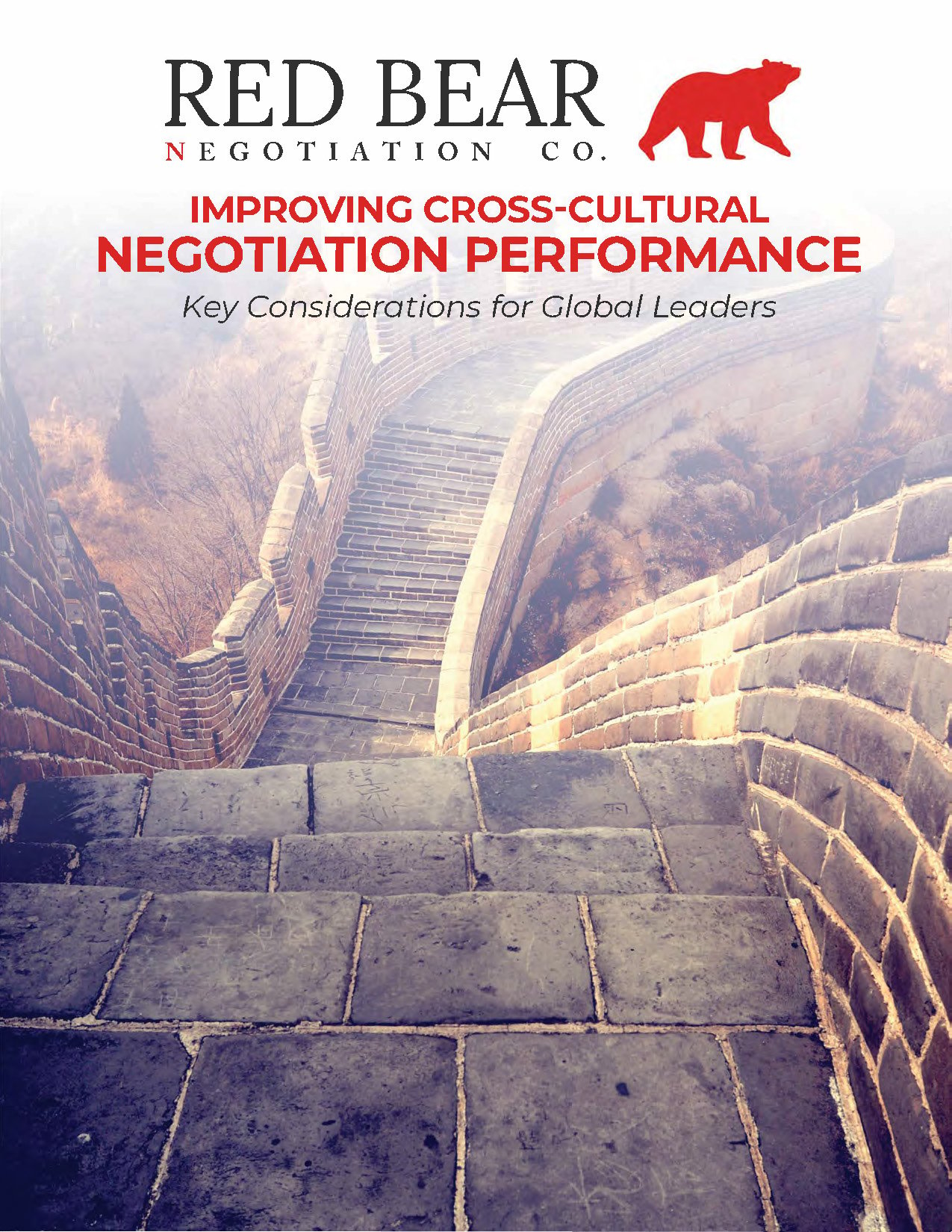 Download Now!
Complete the form to receive the Improving Cross-Cultural Negotiation Performance white paper
BATTLE-TESTED WITH LEADING
ENTERPRISES GLOBALLY.
Trusted, forward-thinking companies around the world, across every industry, from the Fortune 500 to high growth start-ups rely on RED BEAR to transform their people into world-class negotiators.

Owens Corning

Owens Corning

Owens Corning Owens Corning

Owens Corning

Owens Corning

Owens Corning

Owens Corning

Owens Corning

Owens Corning

Owens Corning Owens Corning

Owens Corning Owens Corning