Everyone has a story and we are no different. Here's how our founder, Chad Mulligan got his start in the negotiation training space and how a passion for negotiating led to the creation of RED BEAR Negotiation
Our Founder and CEO Chad Mulligan began what was to be a lifelong calling when he joined BayGroup International (BGI) as a sales consultant responsible for the Chicagoland territory. Having an eye for taking the "road less traveled", Chad quickly realized that there was an untapped opportunity to support many of BayGroups' existing clients who had large procurement teams that needed negotiation training. Starting with just a handful of clients, Chad quickly grew BGI's portfolio of procurement clients into a significant source of revenue for the firm. That portfolio of clients continued to expand right up until 2013 when BayGroup International was sold.
Shortly after, Chad seized another opportunity and successfully negotiated a deal with the company that acquired BGI, launching RED BEAR Negotiation Company as the exclusive distributor for all procurement focused training programs. Over the next several years, RED BEAR continued to experience significant growth and in 2017, gained full ownership of the content that now forms the core of RED BEAR's negotiation and collaboration training offerings.
"WE ARE NOW IN A POSITION TO TRULY TRANSFORM OUR CLIENTS INTO WORLD-CLASS NEGOTIATORS…. WE ARE GRATEFUL FOR OUR MANY CLIENT RELATIONSHIPS AND LOOK FORWARD TO EXPANDING OUR GLOBAL FOOTPRINT EVEN FURTHER."
CHAD MULLIGAN, FOUNDER & CEO.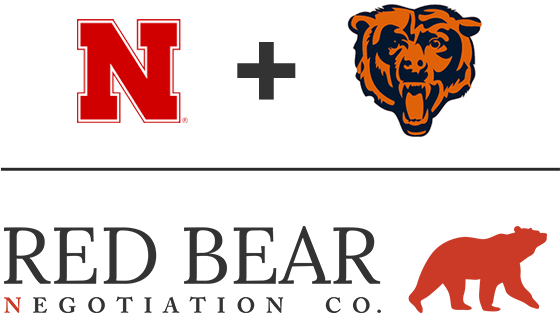 SO WHAT'S
IN A NAME?
WE GET ASKED ALL THE TIME, "WHERE DOES THE NAME
"RED BEAR'' COME FROM? HERE'S THE STORY BEHIND IT…
"Coming up with a name for the company was a real struggle for me. I came up with over 100 different names that I shared with everyone I knew, including Macklemore, our family golden doodle. The one that everyone (including Mackelmore!) kept coming back and I ultimately chose, was RED BEAR.
The name RED BEAR pays homage to two things that are near and dear to me….Nebraska where I was born and raised (never forget where you come from) and the Chicago Bears, my favorite NFL team and where I've lived for the past 20 years. If you've ever been around Nebraska fans you've heard the chant "GO BIG RED", this is where the "RED" comes from. If you look closely at the red colored "N" in the word "negotiation", it is the same "N" that is on the side of Nebraska football helmets. The "BEAR" of course comes from the Chicago Bears. The bear logo symbolizes strength and power which is critical in negotiations. Chad jokes, it wasn't a very strategic approach to naming the company but it means a lot to him personally and in the end, it's the name that stuck with people the most."
-Chad Mulligan, Founder & CEO of RED BEAR Negotiation Company
Our History
We are just getting started. Here's a quick snapshot of the journey we've been on — from our humble beginnings in Larkspur, CA to our present day.
The concept for BayGroup International is hatched in hot tub in Larkspur, CA. Based on research from the Stanford Negotiation Project, Situational Negotiation Skills becomes the first negotiation program offered by BayGroup.
BayGroup International establishes its second office in Darien, CT. The firm counts notable companies like AT&T, UPS, HP, and Dell among its largest clients.
Expanding its global footprint, BayGroup International opens its first European office in Esher, UK
The Last Link: Closing the Gap that is sabotaging your Business is published, debuting at #5 on the New York Times best seller list
BayGroup International is sold, closing one chapter and opening up a brand new one
RED BEAR Negotiation Company is founded as an exclusive distributor for BayGroup International negotiation content
RED BEAR Negotiation Company acquires full ownership of all BayGroup negotiation IP
BATTLE-TESTED WITH LEADING
ENTERPRISES GLOBALLY.
Trusted, forward-thinking companies around the world, across every industry, from the Fortune 500 to high growth start-ups rely on RED BEAR to transform their people into world-class negotiators.

Owens Corning

Owens Corning

Owens Corning Owens Corning

Owens Corning

Owens Corning

Owens Corning

Owens Corning

Owens Corning

Owens Corning