When it comes to mastering sales negotiation, the right training matters.
By focusing on the fundamentals — the real drivers of successful negotiations — your team can walk into any environment with confidence. It's all about understanding the principles, behaviors, and other elements of effective negotiation.
The RED BEAR methodology teaches you how to master these concepts and leverage the right tools and knowledge to understand the other party's needs, build better relationships, and, ultimately, maximize the outcome of the deal not just one time but every time.
Our negotiation training gets results. In fact, for every dollar invested into RED BEAR's training courses, our clients receive, on average, $54 back. That's the power of effective negotiation training; that's the power of RED BEAR.
To help further drive this point home, let's explore the value of sales negotiation training and learn all about the RED BEAR difference.
The Limitations of Other Training Courses
First, let's talk about other training courses.
The reality is today's buyers are more informed than ever before — and that's just one of the many changes to B2B buyer behavior over the last few years.
Let's break it down: today's buyers:
Prefer self-service
Prioritize visibility and transparency
Spend less time with sales reps than ever before
That last point is an important one. With only 17% of the total B2B purchase journey happening with sales reps, negotiators need to learn to value the time they have available. Moreover, in 2022, only one in four buyers consulted vendor sales reps, a decline of 20% from 2021.
What does this have to do with picking the right sales negotiation training? It all comes down to one thing: relationship building.
Today's buyers aren't walking into negotiations blind. They're well-prepared, knowledgeable, and ready to negotiate. When sales professionals attempt to leverage canned tactics and manipulative strategies, they're immediately met with distrust and disdain.
"When sales professionals attempt to leverage canned tactics and manipulative strategies, they're immediately met with distrust and disdain."
That's what some training courses teach, and while it might have had some success in the past, those strategies are old and worn out.
Here at RED BEAR, we teach a negotiation methodology that helps individuals and teams build a balance between their own self-interest and collaboration. When these two dimensions of negotiation are in balance, both parties can come together to develop creative solutions that break impasses and build trust.
With the time sales professionals have available, they need to get right to the point, discovering the underlying needs and prioritizing win-win outcomes that keep customers coming back time and time again.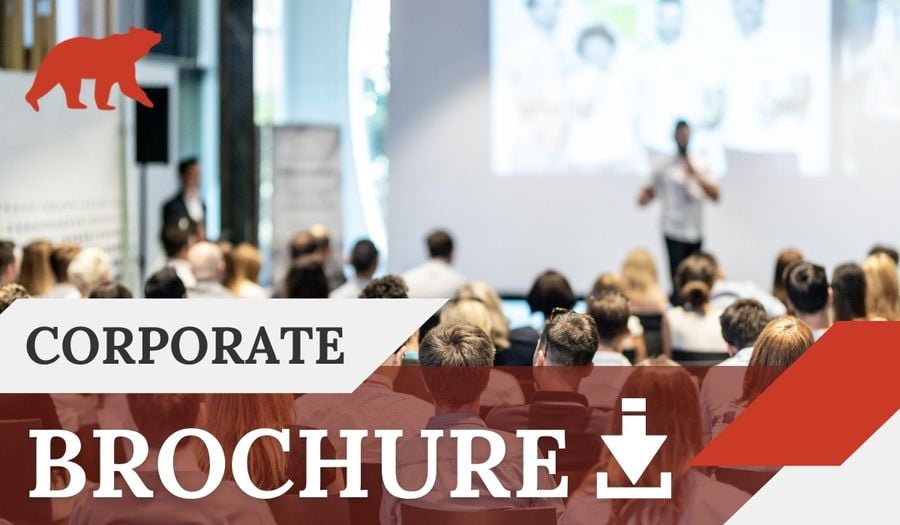 What Makes RED BEAR's Approach Different?
When sales professionals understand the building blocks of effective negotiations, it doesn't matter where they are or who they're talking to; they can find creative solutions to complex problems that leave both parties happy and satisfied.
One-time use tactics might work once. But when that customer needs to restock, buy a new product, or sign up for an additional service, there's a high likelihood they'd rather explore the alternatives rather than go back to the same manipulative organization.
With the decline of vendor resource use comes an increased reliance on third-party information sources.
From user reviews and word-of-mouth to analyst rankings and reports, buyers today are researching all they can about a company before they even start any sort of conversation — and this trend is only growing.
41% of Gen Z and 29% of Millennials named "check review sites" as the first step in their buying journeys.
Your company's reputation is more important than ever before. The last thing you want is a black spot on your name, driving potential customers to the competition.
With the principles, behaviors, and mastery of the negotiation process, your team can not only build a sterling reputation but also treat buyers with the respect they deserve, offering solutions that not only maximize the outcome of the deal but also build strong relationships.
That's what separates RED BEAR from other negotiation training companies. We work to transform individuals into world-class negotiators that can make an impact with the time they have, rather than offer cheats and shortcuts to short-term rewards.
Long-Term Benefits Over Short-Term Rewards
Here at RED BEAR, we teach our clients to learn how to balance their initial reaction of self-interest with the desire to collaborate. Alongside a robust negotiation process and the principles and behaviors of effective negotiation, they can find the best solution for both parties every time.
Ask yourself, would you rather close a great deal once or great deals with the same customer over years of working together?
The right training, like the RED BEAR methodology, produces these long-term results.
Look, we all want what's best for our company. While it can seem beneficial to break out the manipulative tactics and leverage everything you can to squeeze out as much value from a customer as possible, this is a recipe for a one-time interaction.
"While it can seem beneficial to break out the manipulative tactics and leverage everything you can to squeeze out as much value from a customer as possible, this is a recipe for a one-time interaction."
The right training will get your team what they want and need from customers, help maintain productive relationships, and increase account profitability in the process.
Moreover, these approaches can be performed over the long term. As your company grows, sales professionals will have the tools and knowledge needed to navigate this growth and come out on top.
Entering new markets overseas? Understanding the nuances of cross-cultural negotiations will get you a long way. Negotiating concessions with a new client? RED BEAR has the training you need to succeed and concede according to plan.
Whatever challenges your team faces, RED BEAR's Sales Negotiation Training will help them get results time and time again.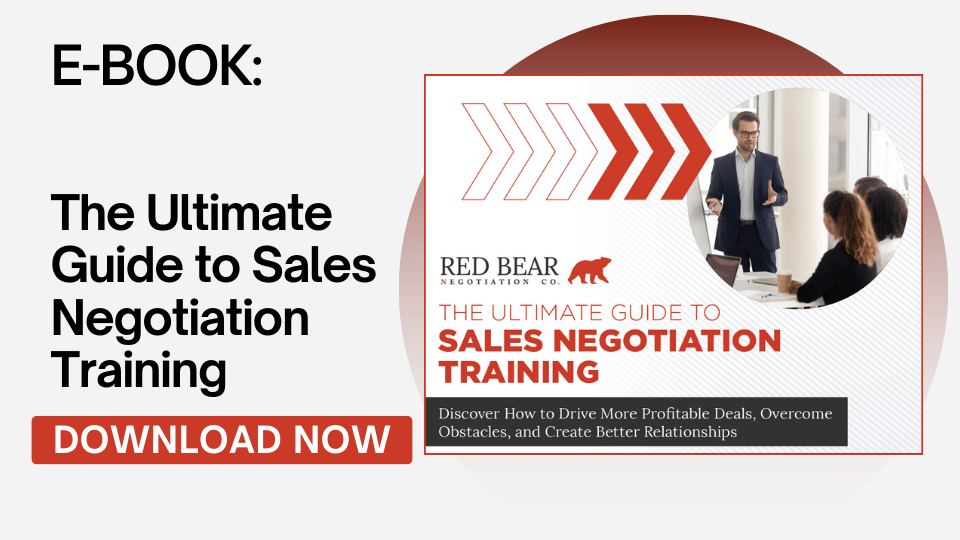 The ROI of Investing in the Right Negotiation Training
While we've already touched on the ROI of RED BEAR's training — that's $54 back for every dollar invested — that's only scratching the surface of what you get from our workshops.
How about this: a 1% change in pricing can drive an 8.7% change in gross margin.
That can result in an upward swing in the stock price of 4%. If every sales professional on your team can leverage the right knowledge to get this 1% increase in every deal they make, you can imagine what that means. That's compounding value in action, and it all starts with RED BEAR.
Get Started with RED BEAR Today
The right approach to sales negotiation starts with the right negotiation training.
When you learn to leverage the right fundamentals and approach each negotiation with the goal of learning, balancing tension, and, inevitably, reaching the best outcome for both parties, you get more than the initial value of the deal. You get a long-term client who comes back with a smile on their face and a long list of people they've referred to your company.
It's all about effectively moving back and forth between competitive and collaborative approaches, leveraging tension to identify creative solutions to break deadlocks.
That's exactly what we teach here at RED BEAR and why our methodology is utilized by 45% of the Fortune 500.
Get the negotiation training your team deserves; get in touch with RED BEAR today.
Fill out our contact form and we will be back to you in no later than one business day.