Due to inflation, the purchasing power of the U.S. dollar declined around 7.4% between 2021 and 2022. This unprecedented economic environment is pushing supplier, raw material, and shipping costs up and creating snags across virtually every aspect of business operations.
In our recent article 3 Ways to Use Procurement Negotiation to Combat Inflation shared on Supply Chain Management Review, RED BEAR Negotiation's Mike Slomke offers insights into how procurement teams can tackle rampant inflation and learn to leverage the power of a world-class negotiation process.
Let's dive deeper into Mike's timely and actionable advice to understand the inflation issue more clearly and learn all about the value RED BEAR's training offers procurement professionals.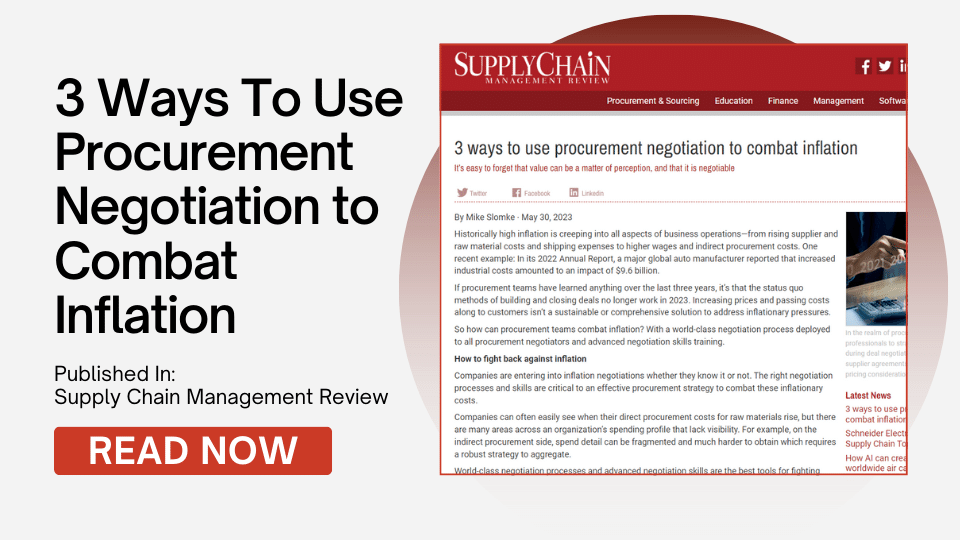 Understanding the Inflation Problem for Procurement Professionals
As Mike explains, "companies are entering inflation negotiations whether they know it or not."
The inflation problem is striking virtually every business across every industry. From supplier and raw material costs to shipping expenses and higher wages, it's clear that the environment procurement teams are working in today is much more complex — meaning the approaches to building and closing deals need to adapt and evolve.
"The inflation problem is striking virtually every business across every industry."
Unfortunately, most organizations' spending profiles have significant visibility problems. This creates some significant hurdles for teams looking for footing in the hyperinflationary environment of 2023.
Luckily, Mike outlines some clear ways organizations can leverage the power of negotiation training from RED BEAR to get ahead and tackle inflation issues strategically.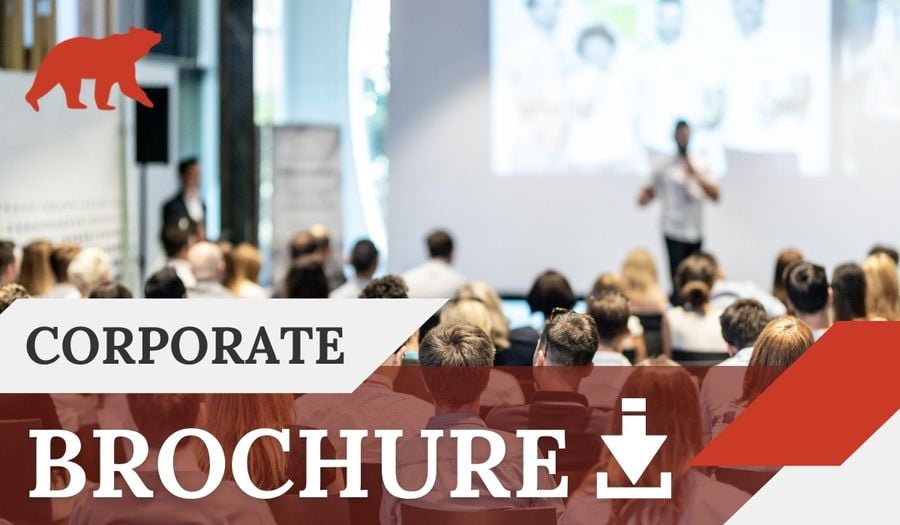 Mastering Procurement Negotiations in 2023
So, how can procurement professionals use negotiation to navigate the turbulent inflation waters of 2023 and come out on top? Let's take a quick look at some of the insights from Mike's article:
Of course, those are just a few pieces of actionable advice shared by Mike in the article. For the full picture, be sure to read through all these insights and more in greater detail on Supply Chain Management Review.
The Value of Procurement Negotiation Training
While Mike offers some powerful advice that procurement professionals can implement to succeed in a changing business environment and tackle inflation-related roadblocks, there's much more to the value of procurement negotiation training than what is covered in the article.
For example, while teams may understand the power of building a robust negotiation process, what does that look like in practice?
With RED BEAR Training, individuals learn the two-phase process of negotiation planning that leverages a research phase and an anticipation phase. This splits information gathering, also known as objective preparation, with understanding the pressures and demands of the other party, known as subjective preparation.
Another key aspect of procurement negotiation training is understanding the value of making concessions.
When used correctly, a well-planned concessions strategy leverages the fundamental pillar of influence to give negotiators the tools needed to set targets effectively, value concessions as essential resources, and utilize a give-and-take methodology that benefits both parties.
These kinds of concessions in negotiations are the key to building positive long-term relationships with suppliers — an effort Mike argues is part of how procurement teams can tackle inflation.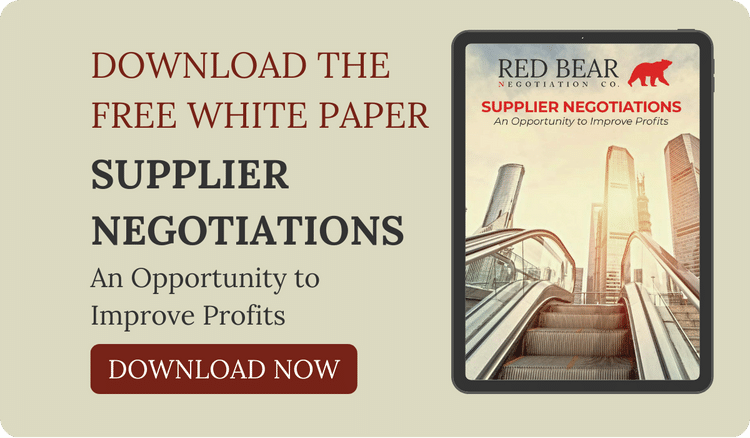 But it's not just implementing the right negotiation strategies; it's also about avoiding common procurement negotiation mistakes. Let's explore a few to help you understand what problems your team might face in 2023:
Lack of Preparation: Always put time and effort into the planning and preparation stage of a negotiation.
Setting Your Goals Too Low: Set your targets strategically and focus on the opening offer, target price, and walk away price.
Avoiding Tension: Negotiations are a tense environment. Getting comfortable in that tension is the key to success.
Not Asking Questions: Skilled procurement negotiations will always listen carefully and ask questions for clarification often.
By leveraging these negotiation concepts alongside Mike's critical procurement insights, your team can take on the inflationary environment of 2023 and come out victorious.
RED BEAR Training: Your Key to Procurement Success in 2023
RED BEAR has decades of experience working with top-level organizations, like those in the Fortune 100. With this expertise, our team can help your business navigate the challenges of 2023 and beyond with procurement-focused negotiation training that produces measurable business results.
Here at RED BEAR Negotiation, our goal is to take individuals and transform them into world-class negotiators. We focus on teaching tested methods based on the fundamental principles and behaviors that drive successful negotiators.
To dive deeper into Mike's procurement negotiation insights, be sure to read the entire article on Supply Chain Management Review today.
Get started with RED BEAR Training Today
Fill out our contact form and we will be back to you in no later than one business day.