SUPPLIER NEGOTIATIONS
MANAGE SUPPLIER RELATIONSHIPS WITH A STRATEGIC APPROACH TO NEGOTIATIONS
In today's profit-conscious business environment, successful supplier negotiations are critical to implementing cost containment and profit improvement plans. Because of this, many leading companies are looking for ways to improve performance in this key area.
SUMMARY
The typical organization spends almost 70% of its revenue on non-labor costs. A 1% reduction in those costs can increase profits by more than 4%, according to a recent study of Bloomberg data.
Any CFO will tell you that every penny saved in supplier negotiations falls immediately to the corporate bottom line.
To grow in today's global, competitive environment, businesses have to think differently about the role procurement plays in developing and maintaining supplier relationships.
Supplier negotiations have become more important to improving corporate efficiencies. Those who manage supplier relationships are increasingly expected to help their companies:
Drive savings through consolidation of supplier relationships;
Develop radically improved approaches to inventory management;
Meet aggressive quality standards; and
Protect intellectual property while ensuring access to leading-edge technology.
The goal of most supplier negotiations today is no longer just to get the lowest price. It is also to find new and innovative ways to meet a wide variety of business challenges, often by tapping into the knowledge and expertise of the supplier community.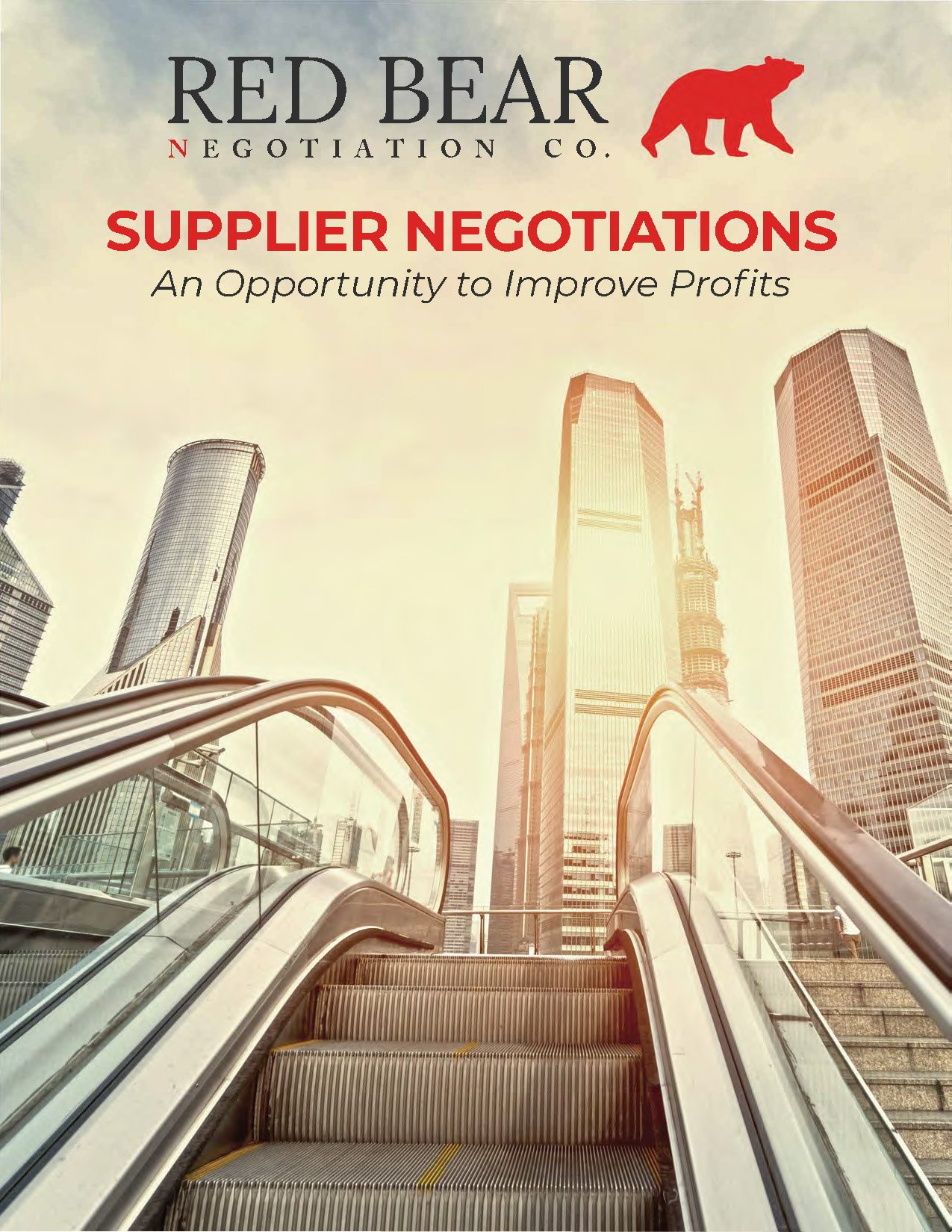 Download Now!
Complete the form to receive the Wrong Turns... Right Turns white paper
BATTLE-TESTED WITH LEADING
ENTERPRISES GLOBALLY.
Trusted, forward-thinking companies around the world, across every industry, from the Fortune 500 to high growth start-ups rely on RED BEAR to transform their people into world-class negotiators.

Owens Corning

Owens Corning

Owens Corning Owens Corning

Owens Corning

Owens Corning

Owens Corning

Owens Corning

Owens Corning

Owens Corning

Owens Corning Owens Corning

Owens Corning Owens Corning