Whether it's strained supply chains throttling operations or geopolitical pressures from across the globe halting business, these last few years have been, in a single word, turbulent.
Industry professionals have reshaped how they do business, delicately navigating this evolving landscape as best they can. While some business leaders are learning to adapt, we may finally see the light at the end of the tunnel.
Watching headlines and economic outlooks can prove a frustrating practice. But, behind the scenes, a manufacturing boom might be brewing.
We're currently experiencing unprecedented investment in critical sectors of domestic production. Spurred by legislation and a drive to outperform other geopolitical powers and reduce the inherent risk of extended supply chains, the U.S. is set to see a manufacturing supercycle in the coming years.
Even with this possible positive news on the horizon, business leaders still need to understand effective approaches that make the most out of this new era of domestic manufacturing.
One critical skill that will be invaluable in this environment is negotiation.
RED BEAR Negotiation Company teaches your team the fundamental principles and behaviors that drive successful negotiations. Our goal is to transform your team into world-class negotiators capable of navigating any sales, procurement, or cross-cultural discussion with ease and confidence, in any economic climate.
Let's dive deeper into this possible manufacturing supercycle, what it means for your business, and how negotiation training can prepare your team for this upcoming macro trend.
A Manufacturing Supercycle on the Horizon?
It's hard to deny the harsh realities of these last few years. From rampant inflation to supply chain disruptions, businesses have struggled to find footing in the post-COVID era.
But, according to Axios and plenty of economic data, the tides may be changing.
Alongside other factors, investment drives this growth. During the 2010s, the U.S. had very little internal investment. That's changed in the 2020s.
In the last two years alone, we've seen a plethora of legislation passed that aims to inject capital into the nation's industrial sectors. Because of this, many experts argue we are at the precipice of a manufacturing supercycle.
As hundreds of billions of dollars flood the country, alongside pent-up demand, positive data around economic activity and growth is becoming a trend. For example, the construction sector is currently at its highest level of employment since 2013.
Some of this legislation includes federally-passed efforts as well as state bills. One key area that Axios highlights is the growth of our domestic semiconductor market — and there's no better poster child for this explosion of development than Texas.
Thanks to the Texas CHIPS Act, signed by Gov. Greg Abbot, as well as the Federal CHIPS Act, the Lonestar State ranks number one for semiconductor manufacturing in the United States. These semiconductors are essential components in everything from cell phones to cars, and until recently, overseas manufacturers in Asia dominated the market. That's all changing.
Of course, the Texas example is only one sign of the possible upcoming supercycle.
The First Signs
As Texas dawns its crown as a semiconductor juggernaut, other areas of the country are also seeing rapid growth and development — and the data is telling us a compelling story.
According to data from the Census Bureau, U.S. manufacturing investment doubled over the past year. In April 2023, the annual rate reached $190 billion. Compare that to the $90 billion annual rate in June 2022.
Additionally, we're seeing a constant barrage of headlines marking the opening, construction, and development of new factories and facilities. From deserts to resort towns, the U.S. is bringing back manufacturing from lower-cost countries with riskier extended supply chains. While semiconductor manufacturing is certainly a positive for the tech industry, we're also seeing more and more electric vehicle, battery and solar panel manufacturers popping up across the South and Southwest, in particular.
Lastly, we can look at the job growth in manufacturing employment. Over the last two years, the U.S. added around 800,000 manufacturing jobs, employing about 13 million workers.
While these optimistic signs point toward a manufacturing boom, making the most out of this new era for domestic production is not as simple as some business leaders believe. To get ahead, find new opportunities, and drive success, organizations need to adapt and develop new skill sets — most importantly, negotiation.
How to Prepare for a Manufacturing Boom
The upcoming manufacturing supercycle will add additional stress to an already-challenged supply chain. As the manufacturing supercycle approaches, businesses need to develop and hone their skills and strategies around negotiation to get ahead. It's not enough to simply ride the rising tide. Organizations need to learn how to find win-win outcomes with partners, nurture highly-valuable relationships with suppliers, and work internally to find growth opportunities.
Let's explore a few ways negotiation proficiency can drive organizational growth and why the right training negotiation program can make all the difference.
Build Stronger Supplier Relationships
Building strong supplier relationships requires open communication and transparency. These long-term relationships are critical to securing favorable terms that ensure a steady supply even during peak periods, like during a supercycle.
At the heart of any quality negotiation process is relationship building. Effective negotiators are the key to building trust with suppliers, leading to valuable long-term relationships. Having the right processes built around negotiation allows for easier conflict resolution, better and more flexible terms, and a higher chance of securing goods during times of disruption. Stronger supplier relationships deliver better results for your business!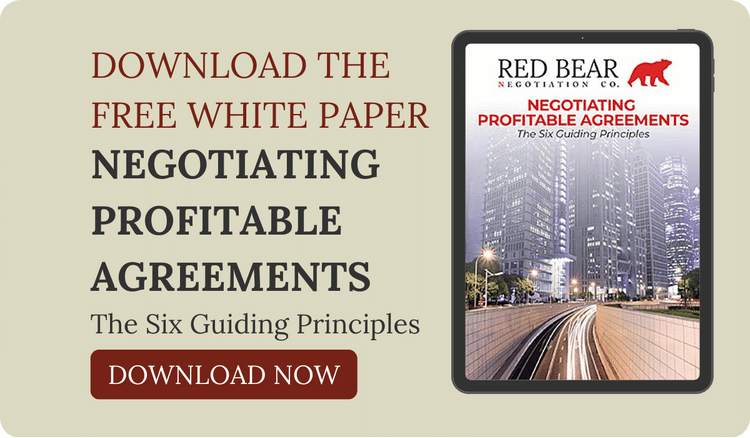 RED BEAR teaches individuals to value win-win outcomes and collaboration over purely competitive approaches to negotiation (although the competitive aspect is equally important, too), with the goal of building these long-term and rewarding relationships.
Understand the Power of Supplier Diversification



In a time of increased manufacturing activity, supply base optimization is important. Do you have enough sources of supply for your critical materials and services? You may need to selectively add new suppliers to reduce your supply chain risk and maintain continuity of supply during this manufacturing supercycle. This helps reduce your business' dependency on a single or sole-sourced supplier. Negotiation skills are critical when selectively expanding your supplier base. Each new supplier brings unique circumstances that require careful and sensitive negotiation to establish the best terms.
Supplier base optimization can help your team maintain the flow of critical materials and services in the event of issues like labor shortages, natural disasters, or other supplier production interruptions. It also allows your team to be flexible in the market, opening up opportunities to work with suppliers with different capabilities, specialties, or innovative solutions.
RED BEAR Training teaches your team how to know the full range and strength of your power.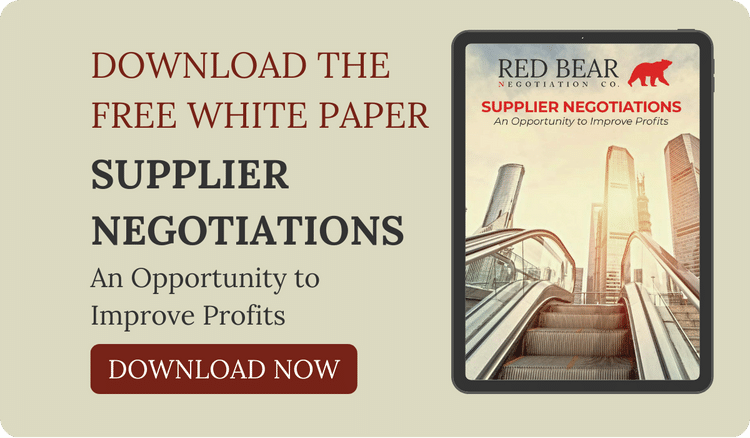 When you selectively expand your supply base, it can give your team some power in a negotiation. If one supplier is unwilling to meet certain terms or prices, you can turn to others. This competitive environment can lead to better pricing, quality, and service. RED BEAR can also give your team the tools needed to know the full range and strength of your power and understand when and where to strategically share this kind of information.
Don't Forget About Risk Mitigation

As manufacturing booms, the risk landscape will shift. Negotiation will be critical in managing new agreements and contracts with suppliers. This might include proactively negotiating for contingencies, like alternative supply routes or guaranteed production slots, to ensure supply during peak demand.
Even during a manufacturing boom, procurement professionals still need to play a key role in ensuring the stability of supply chains. Whether it's financial issues, production problems, or a sudden closure, risk mitigation can help prevent and manage possible disruptions.
During a supercycle, these risks can become more pronounced. This is due to the increased demand and pressure on suppliers. The right negotiation training can help your team secure contract terms that protect your business, effectively communicate needs to suppliers, and work with internal and external stakeholders.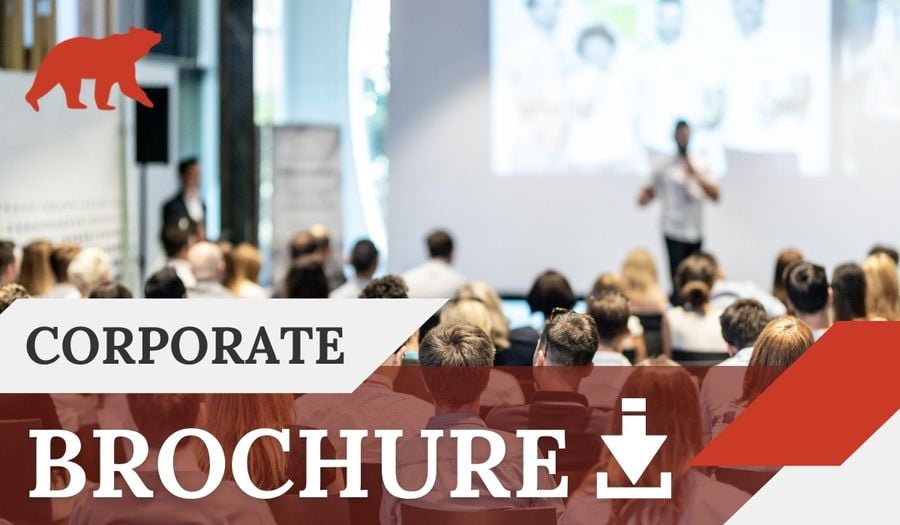 Are your negotiators "Supercycle Ready"? Get them Supercycle Ready with RED BEAR!
As the economic data turns positive and more and more business leaders become aware of the possible upcoming manufacturing supercycle, it won't be enough to simply use the same tactics and strategies that proved useful in recent years.
Teams will need to understand the value of principled approaches to negotiation that don't rely on simple tactics or single-use strategies. They'll need to develop comprehensive perspectives that highlight the universal fundamentals that drive all successful negotiations.
That's what RED BEAR Negotiation Training is all about. Our focus is on the process of negotiation, not tactics or strategies. Through our training programs, your team will have access to unforgettable and tailored learning experiences that focus on teaching these tested methods that deliver improved business results.
Everyone from Fortune 100 companies to high-growth startups use our methods, and for a simple reason — they get results.
To learn more about RED BEAR and our training programs, be sure to connect with the team today.
Fill out our contact form and we will be back to you in no later than one business day.