In March of 2023, the Manufacturing Purchasing Managers Index (PMI) fell 4.7%, marking a fourth month of contraction after a 30-month period of expansion.
Across the industry, organizations are feeling the pinch and facing challenges from supply chain disruptions, advances in manufacturing technology, and labor shortage issues.
With the complexity of global supply chains and an evolving landscape for talent, it's becoming increasingly important for manufacturing industry professionals to understand the power of proper negotiation skills.
That is why RED BEAR Negotiation Training focuses on teaching tested methods that establish robust negotiation processes within an organization.
Choosing the right negotiation training program can help your company grow and thrive instead of simply surviving.
Let's explore some top trends in the industry and see how the right negotiation processes can help your team make the most out of an uncertain economic environment.
The Future of Manufacturing: Key Trends and Challenges
As trends in the manufacturing industry evolve at an unprecedented pace, it's critical for organizations to stay informed of the latest challenges shaping the sector.
In this section, we'll explore the driving forces behind these changes, highlight key developments, and detail potential obstacles professionals must understand to navigate the industry's future.
Revolutionizing Manufacturing: Embracing Technology and Smart Factories
In 2022, the global smart factory market was valued at $129 billion.
This number is expected to reach $300 billion in the next decade, growing at a compounded annual growth rate of 9.52% from 2023 to 2032.
These smart factories digitize manufacturing facilities with the latest in AI, Big Data analytics, cloud computing, and industrial Internet of Things (IoT) infrastructure. This trend is shaping up to be a driving factor in overall industry growth and change for years to come, and professionals must understand this changing dynamic.
Moreover, procurement professionals will need to deal with a broader range of companies to supply essential equipment like sensors and smart factory software.
More and more, these organizations are becoming globally distributed, putting an emphasis on the skills needed to navigate these types of cross-cultural negotiations.
Negotiation training equips professionals with the skills needed to partner with these technology providers, adopt innovative solutions, and explore the complexities of these new integrated systems with the overall goal of helping organizations stay competitive and optimize their operations.
The vendor market will only become more complex.
Procurement teams need the right processes in place to stay on top of innovations and partnerships in their negotiations.
"Procurement teams need the right processes in place to stay on top of innovations and partnerships in their negotiations."
As the smart factories continue to expand and reshape the manufacturing landscape, it's critical for industry professionals to invest in negotiation training and adapt their procurement strategies.
Navigating the Ongoing Supply Chain Challenges in Manufacturing
Three years after COVID-19 disrupted global supply chains, manufacturing organizations are still feeling the heat from geopolitical conflicts, rapid inflation, and a tumultuous macroeconomic environment.
Around 71% of global manufacturing organizations say raw material costs are still a formidable supply chain challenge in 2023. Additionally, 67% highlight the issue of meeting customer expectations for speed and delivery — a critical component of the upkeep of a client relationship.
Most believe this will impact operations and disrupt the flow of goods for the next 12-18 months.
Mastering the new supply chain dynamic means building and fostering lucrative long-term relationships, securing better pricing terms, increasing collaborative efforts across the supply chain, and mitigating risks of geopolitical issues, fluctuating prices, or unreliable suppliers.
Negotiation plays a critical role in these efforts.
Skilled negotiators are necessary to effectively communicate organizational demands and foster long-lasting and rewarding relationships.
RED BEAR highlights the principles and behaviors professionals need to both enhance collaboration and mitigate risk.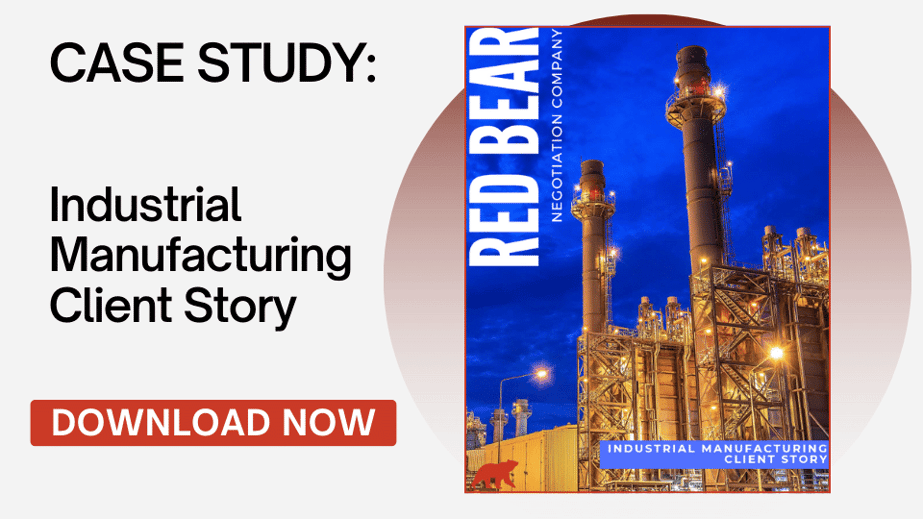 Balancing High Demand and Labor Shortages in Manufacturing
Another complex challenge facing the sector is the rising demand for goods paired with industry-wide labor shortages.
While employee trend data is positive, we are still recovering from the sharp 2020 decline.
Economic research data tells us that the quit rate for manufacturing industry employees is around 2.2% — eclipsing pre-pandemic levels.
Finding skilled labor is becoming more and more difficult.
In fact, 87% of human resource leaders are feeling the impact of this skilled-labor gap now more than ever.
Organizations need concrete processes in place to help promote communication and collaboration across industry players to mitigate the downsides of a depressed labor market.
Many businesses are focusing on shoring up attractive incentives for workers like increased pay, generous benefits packages, and better structures for work/life balance.
While some researchers argue this is a great way to attract and retain talent, manufacturing industry leaders still need to think deeper to leverage current assets and help new hires reach peak performance.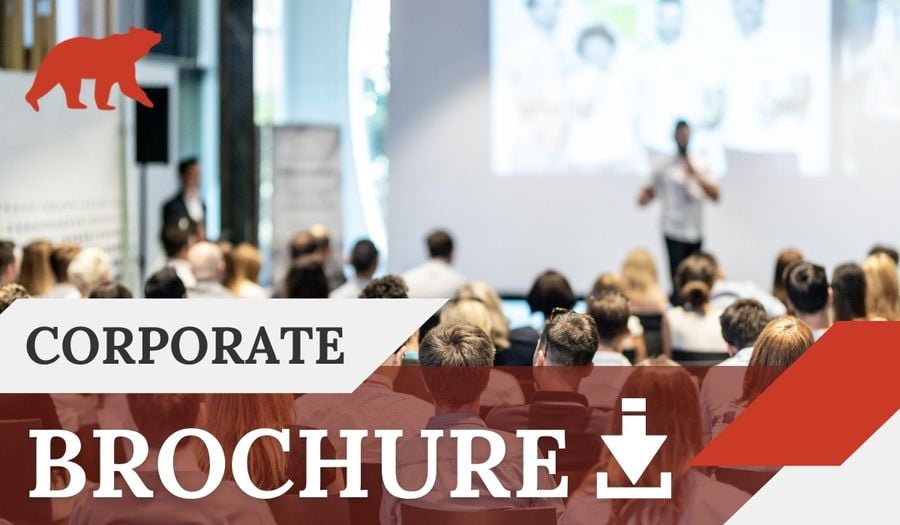 Implementing valuable Learning and Development efforts can help retain employees by equipping them with valuable skills that individuals can apply across various aspects of their job and attract talent by investing in employee development.
Providing negotiation training opportunities that signal an organization's commitment to fostering a skilled and competent workforce is essential to navigating this uncertain labor market.
Mastering Negotiation Dynamics in Manufacturing
The manufacturing industry is facing unique challenges.
From supply chain disruptions to novel technologies revamping everyday operations, it's more important than ever for organizations to invest in employee development, like negotiation training.
But, the right training matters.
RED BEAR Negotiation Training helps manufacturing professionals understand the universal behaviors and principles that drive successful negotiations.
Our training fosters creative and collaborative agreements rather than solely relying on purely competitive approaches.
Moreover, our goal is to instill the skills needed to create long-lasting relationships and build confidence and credibility across the entire organization.
That's why our training methods are trusted by forward-thinking companies with partners in every industry, including Fortune 500 organizations, high-growth startups, and manufacturing industry leaders.
Don't let your organization fall behind in the fast-paced manufacturing landscape. Equip your team with the critical negotiation skills they need to excel and succeed.
Elevate your organization's success with RED BEAR Negotiation Training
Fill out our contact form and we will be back to you in no later than one business day.