Building agile and adaptable cross-cultural negotiation processes is becoming a mission-critical task for any business working with people from other cultures.
From navigating the complexities of global supply chain disruptions to addressing the role of emerging technologies, recent cross-cultural business trends are only exacerbating the need for comprehensive approaches to building robust negotiation processes to tackle these issues.
Unfortunately, navigating these complexities is a challenging feat.
72% of business leaders report increased negotiation volume with people from other cultures — highlighting the importance of choosing the right training partner.
What makes RED BEAR Negotiation Company different? We focus on teaching tested methods that go beyond tactics to deliver sustainable results. We equip individuals with the practical insights, skills, tools, and behaviors needed to navigate complex cross-cultural conversations regardless of where they take place and who's involved.
Let's take a closer look at what effective cross-cultural negotiation training looks like and how RED BEAR can help your team develop the skills needed to succeed.
Why Is Cross-Cultural Negotiation So Important?
Cross-cultural negotiation is becoming an essential skill set for any individual in virtually every industry. While, in the past, businesses could rely on the talents of a few key individuals, cross-cultural negotiation prowess is now a must-have for every team member.
"Cross-cultural negotiation is becoming an essential skill set for any individual in virtually every industry."
For instance, recent hiring research shows 33% of HR professionals expect to hire more candidates that live or have lived in countries outside the organization's location in the next five years.
Cross-cultural negotiation training, then, is not just about finding the best agreements from suppliers or vendors but also an essential part of hiring, HR, and many other internal and external business efforts.
But, to get it right, businesses need to develop the right negotiation processes.
Once these processes become a normal part of daily operations, your team will be ready to tackle international supplier negotiations, work with internal partners across the globe, and understand what's driving the goals and motivations of individuals from different cultures.
Cross-cultural negotiation training from RED BEAR gives your team the tools to craft better agreements, build internal alignment across all stakeholders, and leverage the necessary skills to communicate effectively.
What's driving this trend toward more global connections? Let's explore a few key factors:
Economic Growth: emerging markets are driving the need for skilled cross-cultural negotiators. Most experts expect

2% to 3% growth per year

across emerging markets in Asia. By contrast, western Europe is expected to grow 1% to 2% yearly.
Business Activity: growth in geographical regions fuels evolving and beneficial trade agreements. For instance, the

Indo-Pacific Economic Framework for Prosperity (IPEF)

. Launched in 2022, this agreement connects 14 partners in the region, commanding 40% of global GDP.

Moving Operations:

more and more manufacturing operations are moving to these emerging markets. In fact, emerging markets will be the destination for

65 percent of the world's manufactured goods by 2025

.
These are just a few of the factors driving the need for knowledgeable and versatile negotiators with experience working with different cultures. To learn more about the importance of cross-cultural negotiation, be sure to review our Improving Cross-Cultural Performance white paper.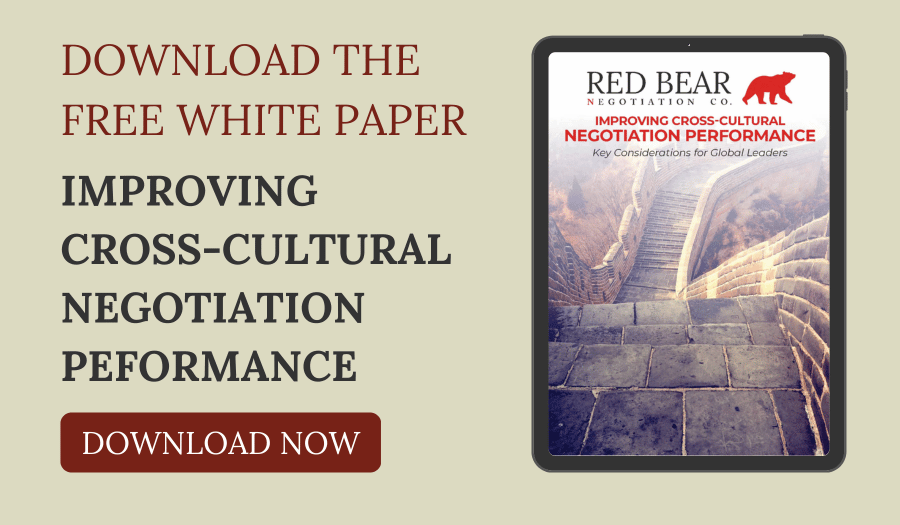 Creating Adaptable Processes that Get Results
For many business leaders, the importance of cross-cultural negotiation is apparent. The struggle is developing the right processes to find footing in this new hyper-connected business environment.
At RED BEAR, we focus on the universal negotiation principles and behaviors that work in virtually every cultural environment — as opposed to solely tactical approaches to negotiation that may only work in one type of culture.
Our expert trainers have the knowledge and background necessary to help transform your team into world-class negotiators, create agile enterprise-wide processes, and understand the common pitfalls found in cross-cultural negotiations. These include:
Distrust and Stereotyping
Language Issues
Virtual Negotiations
Data Overload
The right cross-cultural negotiation training will help your team identify and understand their blindspots, become aware of the gaps in cultural understanding, and learn to adjust and refine a strategy in real-time. These are the negotiation skills that drive success and get results.
With RED BEAR Training, you not only get the foundational knowledge necessary to build robust processes around cross-cultural negotiations but also a personalized training experience that focuses on the skills high performers use to improve multicultural negotiation outcomes.
It all starts with learning how to respond to cross-cultural interactions. We leverage training exercises like BaFa' BaFa' to help your team understand what works and what doesn't during communications and negotiations with other cultures — among other dynamic and valuable training activities.
To make the most out of tense cross-cultural negotiation situations, individuals need to understand their roles, the rules, and the right language to use. This is what we at RED BEAR believe drives success, and it's what we focus on in our training.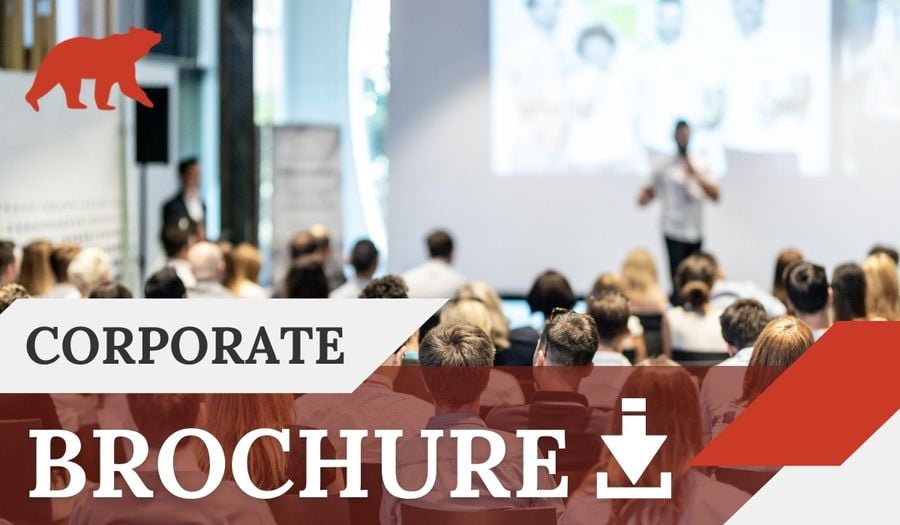 With the right negotiation processes in place, your team can walk into any cultural situation with confidence.
Better Planning and Building Awareness
Effective planning is the key to any successful negotiation. Our approach to improving cross-cultural negotiation performance always starts with a simple but disciplined approach to the anticipation of likely negotiation issues that might arise from cultural differences.
To accomplish this, we not only use the right approach to planning, but also the right tools.
RED BEAR leverages a powerful cultural awareness tool that uses data from industry-leading researchers to dynamically generate a personal profile for each participant based on the five dimensions of culture:
Independent vs. Interdependent
Egalitarian vs. Status
Risk vs. Certainty
Direct vs. Indirect
Task vs. Relationship
This highly dynamic cultural tool helps individuals understand their own cultural standing while increasing their awareness of potential differences between their preferred way of operating relative to the other party.
The goal of the planning process and awareness building using the cultural awareness tool is to help your team leverage similarities and bridge the gaps. RED BEAR Training walks individuals through their profiles and teaches the ways they can navigate the differences they find in other parties' profiles as well.
Finding Success in Cross-Cultural Negotiations with RED BEAR
With the right processes in place alongside proper planning techniques and tools, anyone can learn to navigate tense cross-cultural negotiations with ease. The RED BEAR approach to cross-cultural negotiation training is not about tactics but about instilling the foundational processes and understanding necessary to navigate any tense international interaction, regardless of where the negotiation is happening and who is involved.
That's why everyone, from global business giants to high-growth startups, trusts our training. In fact, 45% of the Fortune 500 utilize RED BEAR's tested negotiation methods.
We focus on providing unforgettable and tailored learning experiences that get your business measurable results every time.
To learn more about RED BEAR, and get started on your cross-cultural negotiation journey, get in touch with the team today.
Fill out our contact form and we will be back to you in no later than one business day.