Leading Negotiation Training Provider Marks Decade of Transforming Individuals into World-Class Negotiators with Limited-Time Retro Pricing Offer
CROWN POINT, IN, Oct. 17, 2023 – RED BEAR Negotiation, the global leader in sales and procurement negotiation training, today announced the company will celebrate 10 years of excellence. The leader in negotiation training is marking this milestone with gratitude for its clients by launching 10-Year Anniversary Pricing Promotion on all negotiation training workshops.
RED BEAR's former, existing, and new clients can take advantage of its 10-year-old pricing until Dec. 15, 2023. Learn more about this limited time opportunity.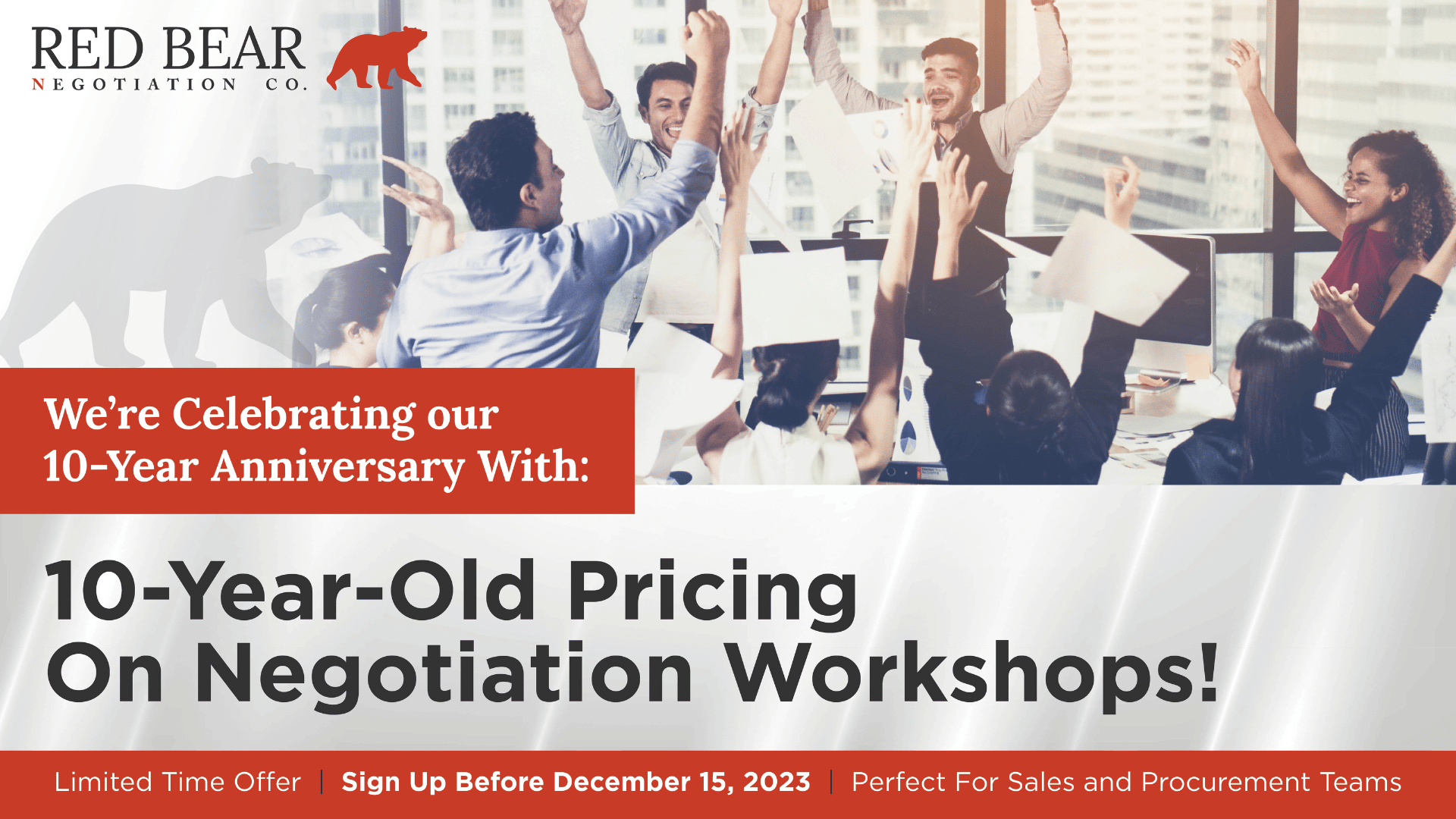 A Decade of Growth and Leadership
For the last decade, RED BEAR has been transforming individuals into world-class negotiators, with organizations seeing $54 in ROI for every dollar spent on RED BEAR training. Demand for RED BEAR's tested methodology and expert insights continues to rise as clients across the globe navigate a challenging economic environment. Over the last year, RED BEAR has seen a 60% increase in revenue, with 82% growth in new client logos.
To meet growing demand, RED BEAR recently expanded its Instructor Training team with the addition of Eric Imrie, a procurement veteran with over 20 years experience in consulting and executive leadership roles in sourcing and supply chain management across multiple industries. The Sales and Marketing teams also expanded with the addition of Vince Shuessler, who leads the sales team as a senior client advisor, Rob Cox, Chief Marketing Officer, who leads the organization's marketing efforts that have driven remarkable growth in the prospect pipeline, and Peri Pompisello who leads business development efforts as the organization sees explosive demand for its customized learning workshops.
"We're grateful every single day for the clients that are responsible for our 10 years of success, said Chad Mulligan, Founder & CEO of RED BEAR Negotiation Company. "As our team approached this milestone, we asked ourselves how we wanted to celebrate. We ultimately turned our focus to our core values, one of which is gratitude. We're pleased to show this gratitude for our clients with this 10-Year Anniversary Pricing Promotion."
"I'm so proud to celebrate 10 years of excellence from the RED BEAR Negotiation team and look forward to our continued leadership in the next decade," said Mulligan.
RED BEAR's 40-Year Legacy of Negotiation Training
RED BEAR Negotiation's legacy spans over 40 years going back to BayGroup International, where Mulligan founded the company's procurement training practice. After BayGroup was sold in 2013, Mulligan became the exclusive distributor of the organization's procurement training and soon after, he acquired full ownership of the content that now forms the core of RED BEAR's negotiation and collaboration training offerings.
RED BEAR's negotiation workshops are hands-on, customized learning experiences built on models, principles, and high-performer behaviors. These tailored learning workshops equip participants with standard negotiation processes, terminology, planners, and other tools. 85% of the workshop is spent either preparing for, engaging in, or debriefing a negotiation case, exercise, or simulation.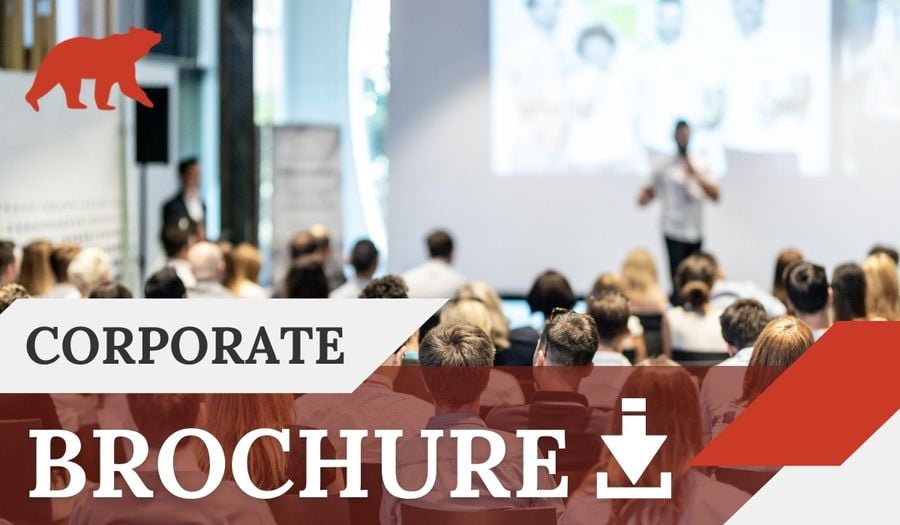 RED BEAR's innovative programs include:
Negotiate effectively and with conviction throughout the entire sales process. Situational Negotiation Skills™ (SNS) equips sales professionals with powerful concepts, skills, and tools for negotiating more profitable client relationships, selling value rather than price, and improving teamwork within the sales organization.
Purchasing is more than just cost savings. Negotiating With Suppliers™ (NWS) is the new playbook for how procurement gets done: providing the skills, tools, and behaviors buyers need to craft profitable, value-based agreements with suppliers that guarantee the reliability of supply.
Cross-Cultural Negotiation™ (CCN) addresses that the basis of successful international negotiations begins with an understanding that negotiations are a conversation aimed at reaching an agreement and different cultures reach agreements in different ways. CCN provides procurement teams with practical insights and equips them with skills, tools, and behaviors to have those conversations.
100 Minutes™ to Improved Negotiation Results is a continuous learning program that reinforces skills learned during RED BEAR's negotiation training workshops. The program is based on RED BEAR's proprietary training courses and delivers short learning activities to learners each week.
Industry Recognition and Thought Leadership
RED BEAR Negotiation was recently recognized by Supply & Demand Chain Executive's 2023 Top Supply Chain Projects Award for its proprietary procurement negotiation training, Negotiating With Suppliers™ (NWS). Selling Power also recognized RED BEAR as a 2023 Top Sales Training Company due to the strength and depth of its sales training offerings, demonstrable ROI, and robust client testimonials. Industry analysts and experts continue to agree on the strength of RED BEAR's offering with more industry recognition expected as the year continues.
Industry-leading publications like Supply & Demand Chain Executive, Supply Chain Management Review, Global Trade Magazine, and Sales & Marketing Management have also recognized the organization's timely and compelling thought leadership.
About RED BEAR Negotiation
RED BEAR transforms people, teams, and organizations into world-class negotiators. Trusted, forward-thinking companies around the world, across every industry, from the Fortune 500 to high-growth start-ups rely on RED BEAR's proprietary negotiation training to accelerate revenue/margin growth, reduce costs, drive greater internal alignment, improve cross-cultural expertise, and support achievement of other critical corporate goals. RED BEAR's training courses and expertise lie in sales negotiation, procurement negotiation, and cross-cultural negotiation. For more information, visit www.redbearnegotiation.com.
Media Contact
Rob Cox
RED BEAR Negotiation
469-855-4079
rob@redbearnegotiation.com