RED BEAR Virtual Instructor-Led Training Overview
There are a growing number of threats and obstacles facing businesses today. Travel restrictions, budget constraints, distributed teams, and economic uncertainty. In order to maintain forward progress, businesses need flexibility to adapt and overcome these obstacles.
SUMMARY
Virtual Instructor-Led Training is the online delivery of RED BEAR Negotiation workshops featuring live instructor-led group video conferencing designed to replicate the RED BEAR Negotiation experience. Each Virtual Instructor-Led Training workshop is delivered by RED BEAR Negotiation experts and features our proprietary discovery-based negotiation training.
Participants can connect directly to live interactive instruction whether it's in the office, at home, alone, or in a group.
Take the first step toward achieving your business goals today.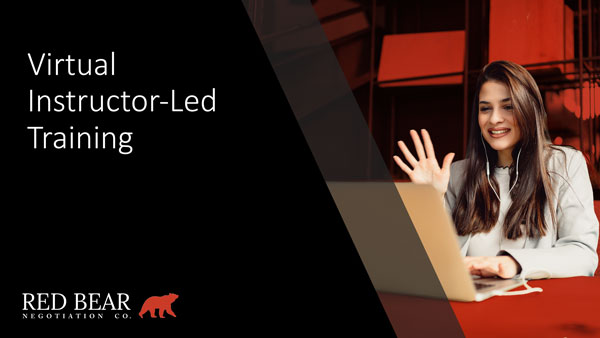 Download Now!
Complete the form to receive the Virtual Instructor-Led Training Overview
BATTLE-TESTED WITH LEADING
ENTERPRISES GLOBALLY.
Trusted, forward-thinking companies around the world, across every industry, from the Fortune 500 to high growth start-ups rely on RED BEAR to transform their people into world-class negotiators.

Owens Corning

Owens Corning

Owens Corning Owens Corning

Owens Corning

Owens Corning

Owens Corning

Owens Corning

Owens Corning

Owens Corning

Owens Corning Owens Corning

Owens Corning Owens Corning