100 Minutes™ to Improved Sales Results Overview
100 Minutes™ to Improved Sales Results is an email-based program that reinforces skills learned during RED BEAR's sales training workshops. The program is based on Situational Negotiation Skills™ and delivers emails with short learning activities to learners each week.
SUMMARY
Through a series of emails, users revisit the negotiation principles they learned during classroom training. Each module is accompanied by "tips and best practices" to help participants understand exactly what the principle means and how to effectively use it during negotiations.
By incorporating the 100 Minutes™ microlearning system into your negotiation training strategy, you can minimize time out of the field, drive real-world application of key concepts to critical negotiations, and make it turnkey for your managers to coach and reinforce effective negotiation approaches.
Take the first step toward achieving your business goals today.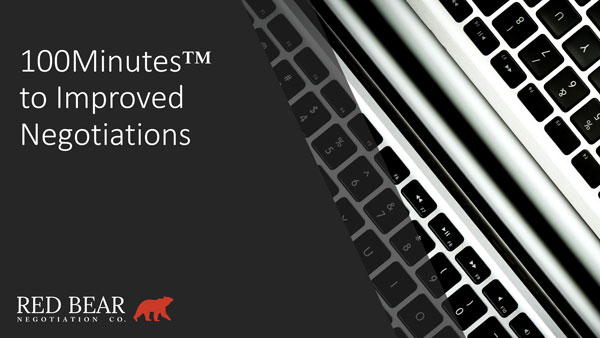 Download Now!
Complete the form to receive the 100 Minutes™ to Improved Negotiations Overview
BATTLE-TESTED WITH LEADING
ENTERPRISES GLOBALLY.
Trusted, forward-thinking companies around the world, across every industry, from the Fortune 500 to high growth start-ups rely on RED BEAR to transform their people into world-class negotiators.

Owens Corning

Owens Corning

Owens Corning Owens Corning

Owens Corning

Owens Corning

Owens Corning

Owens Corning

Owens Corning

Owens Corning

Owens Corning Owens Corning

Owens Corning Owens Corning