SELLING VALUE, NOT PRICE
IT'S NOT THE STRATEGY ... IT'S THE EXECUTION
What's wrong? The strategies are sound. The management consultants' reports are thorough and compelling. The products are differentiated.
The marketing materials communicate the value clearly. The PowerPoint® presentations are stunning. The sales meetings are motivational. The sales team's account plans are complete.
And yet in company after company, the investments in creating customer value don't translate into expected results.
SUMMARY
Every day, sales leaders announce go-to-market strategies designed to improve bottom-line performance. These initiatives, often launched with great fanfare, include:
Price increases
Margin optimization programs aimed at reducing discounting and costly giveaways throughout the sales and service cycle
Launches of new, premium-priced solutions
Introduction of new multi-step sales process models
New and better contracting processes
Initiatives to speed up sales "cycle time" from first contact to close of business.
Unfortunately, management often discovers that launching a new strategy is not the same as implementing it successfully. Discover six keys to effectively execute your corporate sales strategy.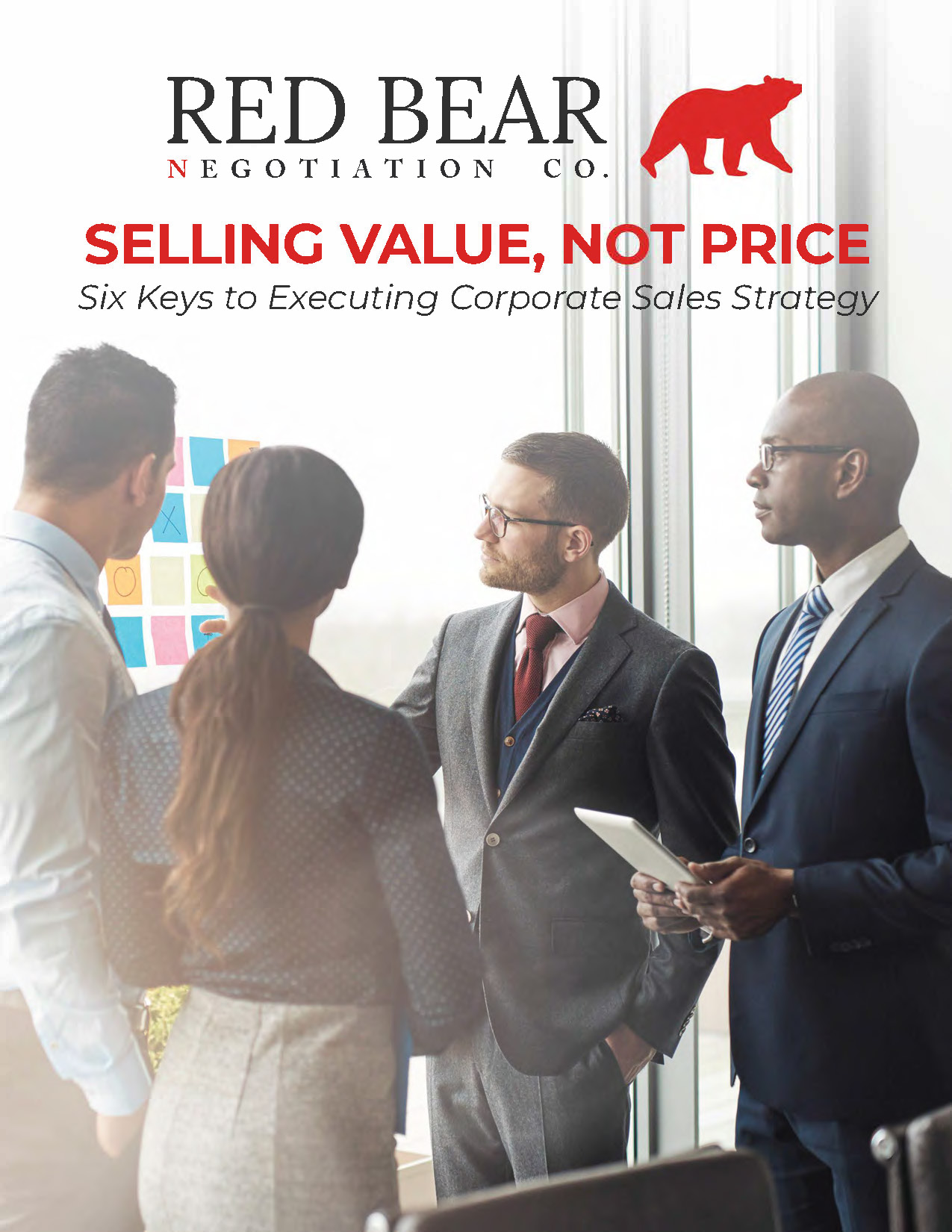 Download Now!
Complete the form to receive the Selling Value, Not Price white paper
BATTLE-TESTED WITH LEADING
ENTERPRISES GLOBALLY.
Trusted, forward-thinking companies around the world, across every industry, from the Fortune 500 to high growth start-ups rely on RED BEAR to transform their people into world-class negotiators.

Owens Corning

Owens Corning

Owens Corning Owens Corning

Owens Corning

Owens Corning

Owens Corning

Owens Corning

Owens Corning

Owens Corning

Owens Corning Owens Corning

Owens Corning Owens Corning