E-Book: The Ultimate Guide to Sales Negotiation Training
Discover How to Drive More Profitable Deals, Overcome Obstacles, and Create Better Relationships
Understanding the fundamentals of negotiation can help your team build better relationships, find creative solutions, and, most importantly, grow your business. Of course, not every sales negotiation training course is the same. Some value manipulative tactics and cookie-cutter strategies, while others focus on the core principles and behaviors that drive successful negotiations.
E-BOOK SUMMARY
In this 40+ page e-book, we take a deep dive into today's rapidly changing and fast-paced sales world and illustrate how effective negotiation training can position teams to thrive in any economic climate.
In this e-book, we cover a wide range of topics, including:
How the sales process has changed
What sales professionals are up against
Sales negotiation skills needed for today
Tips for overcoming buyer's objections
Real-world negotiation scenarios
And more...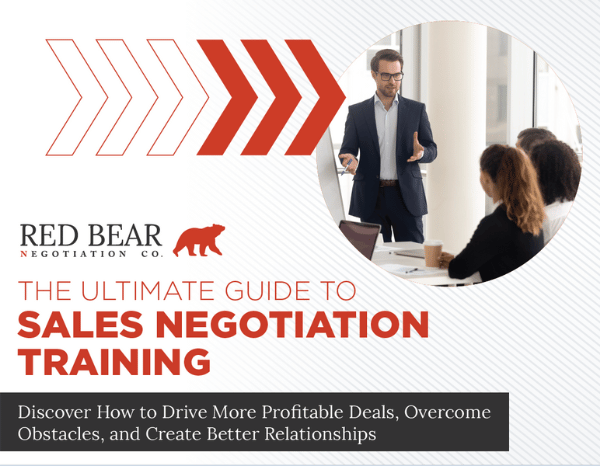 Download Now!
Complete the form to receive the The Ultimate Guide to Sales Negotiation Training E-Book!
BATTLE-TESTED WITH LEADING
ENTERPRISES GLOBALLY.
Trusted, forward-thinking companies around the world, across every industry, from the Fortune 500 to high growth start-ups rely on RED BEAR to transform their people into world-class negotiators.

Owens Corning

Owens Corning

Owens Corning Owens Corning

Owens Corning

Owens Corning

Owens Corning

Owens Corning

Owens Corning

Owens Corning

Owens Corning Owens Corning

Owens Corning Owens Corning