During times of volatility and economic uncertainty, RED BEAR Negotiation's growth proves forward-thinking organizations are investing in negotiation training now more than ever before
RED BEAR Negotiation, the global leader in sales and procurement negotiation training, today announced an extraordinary year of growth as organizations increasingly recognize the need for negotiation training during times of volatility and economic uncertainty. In 2022, the company marked a 60% increase in revenue year-over-year.
"Forward-thinking organizations know it's more important than ever to invest in their sales and procurement negotiations," said Chad Mulligan, RED BEAR Negotiation CEO. "Over the past year, we welcomed a record number of new customers searching for the right tools to safeguard their bottom line through improved customer negotiations and supplier negotiations. RED BEAR transforms people, teams, and organizations into world-class negotiators ready to take on the market challenges of 2023 and beyond."
READ BEAR's 2022 Year-over-Year Growth Highlights:
60% increase in revenue

56% increase in negotiation workshop delivery

23% increase in sales negotiation workshop delivery

82% increase in new logo customers
Training Course Innovation
In 2022, RED BEAR continued to innovate and meet the dynamic needs of the global marketplace by introducing Virtual Instructor-Led Training courses. RED BEAR's Virtual Instructor-Led Training addresses the growing number of threats and obstacles facing businesses today like travel restrictions, budget constraints, distributed teams, and economic uncertainty. In order to maintain forward progress, businesses need flexibility to adapt and overcome these obstacles.
RED BEAR also introduced a new Cross-Cultural Negotiation™ course, a course that addresses that the basis of successful international negotiations begins with an understanding that negotiations are a conversation aimed at reaching an agreement and different cultures reach agreements in different ways. Cross-Cultural Negotiation provides participants with practical insights and equips them with skills, tools, and behaviors to have those conversations.
"RED BEAR's core training and negotiation philosophy are timeless, and we continue to update RED BEAR's training content, so our customers receive negotiation training that is always relevant, timely, and impactful," said Brandon Wilson, RED BEAR Negotiation Director of Client Engagement. "Our Virtual Instructor-Led Training and Cross-Cultural Negotiation courses are just some of the enhancements we made in 2022. We'll continue to advance and deliver life-changing negotiation training courses in 2023 and beyond."
Executive Hires
In 2022, RED BEAR expanded its executive team to scale and meet the growing demand resulting from a strong market response. Rob Cox joined RED BEAR as Chief Marketing Officer to lead the organization's marketing efforts, guide the brand's marketing strategy as it continues to serve Fortune 500 companies around the world, and sustain the remarkable growth in prospect pipeline from 2022.
Cox has worked with more than 40 enterprise brands on marketing strategy, positioning, messaging, thought leadership, demand generation, and more. His experience spans a broad range of companies from early-stage startups to billion-dollar companies, with expertise in building B2B marketing programs from the ground up.
"RED BEAR saw remarkable growth in 2022, and we anticipate for this momentum to continue into 2023," said Rob Cox, RED BEAR Negotiation Chief Marketing Officer. "A 60% increase in revenue over the last year demonstrates the extraordinary, global need for RED BEAR's negotiation training and tools. 2023 will be an exciting year as we continue to build pipeline, add customers, and demonstrate the tremendous value of RED BEAR's proprietary negotiation training. RED BEAR is invested in building lasting relationships with our customers, and we look forward to sustaining the momentous growth of 2022 and welcoming even more new customers in 2023."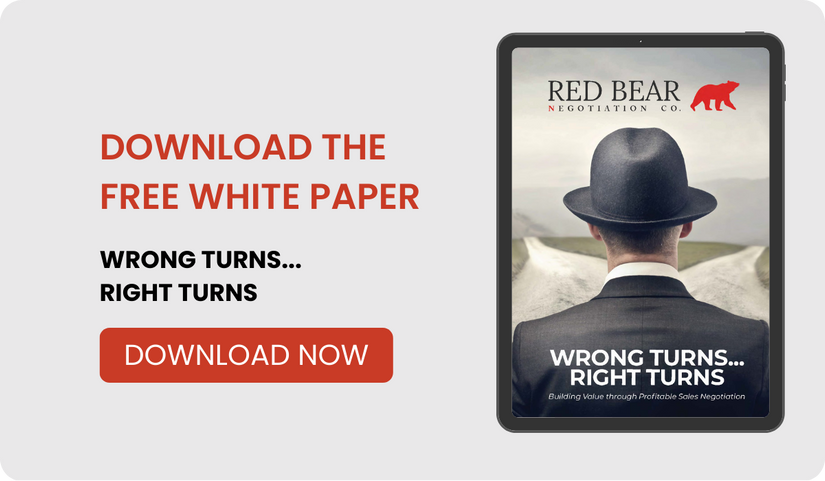 About RED BEAR Negotiation
RED BEAR transforms people, teams, and organizations into world-class negotiators. Trusted, forward-thinking companies around the world, across every industry, from the Fortune 500 to high-growth start-ups rely on RED BEAR's proprietary negotiation training to accelerate revenue/margin growth, reduce costs, drive greater internal alignment, improve cross-cultural expertise, and support achievement of other critical corporate goals. RED BEAR's training courses and expertise lie in sales negotiation, procurement negotiation, and cross-cultural negotiation. For more information, visit www.redbearnegotiation.com.
Media Contact
Rob Cox
RED BEAR Negotiation
469-855-4079
rob@redbearnegotiation.com