CONCESSION PLANNING WORKSHEET
PLAN YOUR CONCESSION STRATEGY TO IMPROVE YOUR NEGOTIATION RESULTS
One of the biggest mistakes we encounter is the lack of effective concession planning. Every negotiation consists of one or many concessions. How and what you concede can ultimately make or break your deal. Use this Concession Planning Worksheet to ensure a highly effective negotiation.
SUMMARY
RED BEAR Negotiation's Concession Planning Worksheet will help you prepare your concession strategy in advance of your next negotiation. Use this tool to develop three benchmarks for crafting your concession strategy.
Your most favorable deal.
The worst-case deal. That's your lower limit or walkway.
And, your opening offer.
Use these benchmarks to prioritize both what you will be asking for, and what you will be willing to give in order to get the most favorable deal. Rank these concessions by value, evaluating the cost to you or your opponent versus the value to you or your opponent.
The Concession Planning Worksheet also includes a handy reference of the 5 Concession Patterns as well as our 5 Concession Guidelines.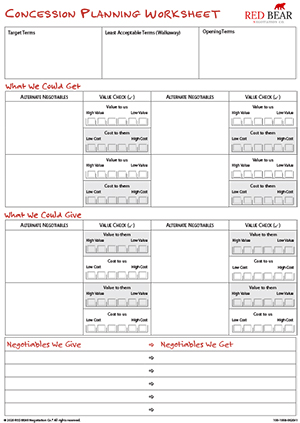 Download Now!
Complete the form to receive the Concession Planning Worksheet
CHECK OUT OTHER WHITEPAPERS
BATTLE-TESTED WITH LEADING
ENTERPRISES GLOBALLY.
Trusted, forward-thinking companies around the world, across every industry, from the Fortune 500 to high growth start-ups rely on RED BEAR to transform their people into world-class negotiators.

Owens Corning

Owens Corning

Owens Corning Owens Corning

Owens Corning

Owens Corning

Owens Corning

Owens Corning

Owens Corning

Owens Corning

Owens Corning Owens Corning

Owens Corning Owens Corning